2
0
1
4

---
Klickitat Washington was originally called Wrights, after one of the original settlers.This was the name
given to the rail stop there. At milepost 7.2 the sign said 'Klickitat'. The railroad later switched the two signs when the
carbonated beverage company Klickitat Pop (operating near the town) gained fame.
On February 7, 1910 the name of the town post office was officially changed to Klickitat. The first non-native
settlers arrived in 1890 seeking land to homestead. The abundance of timber drew in other settlers during the early 1900s.
Travel through the Klickitat canyon and up to the plateau was arduous until the completion of a rail line in 1903. The rail line
eased travel and facilitated the transportation of people, crops, livestock and timber. The lumber mill was the primary employer
in town, with the first major mill formed in 1909, and operated until 1994 when the mill was permanently closed.
You can read some interesting old news articles at: -Klickitat County History- A great resource From Jeffrey Elmer..
---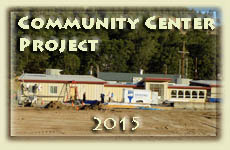 A big Change is coming!
---
The Klickitat Museum is currently undergoing a major renovation.
We are very excited about the Mill Office and property
grants awarded to the School to renovate and modernize
this facility for the community
There will be a whole new look and feel to our museum
with lots of opportunity to expand and preserve our heritage
for the next generation
If you would like to be a part of the museum or
the Community Center project, contact
the School -509-369-4145 and get involved!
---
2014
GorgeSpirits.com
© Mike Schlangen